Carpet Stain Removal Auckland
Call  Us  for Professional Upholstery, Mattress, Rug & Carpet Stain Removal Services in Auckland, North Shore, South & West Auckland.
At Apex-Clean we have the best track record of treating and removing the hardest stains successfully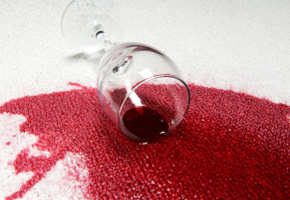 Accidents are bound to happen! But if you get a spill on your rug or carpet, don't take any risks by trying to treat it yourself – you could end up making it far worse! Call in the professionals at Apex stain removal Auckland. Apex-Clean is here to assist you in a professional manner and provide the best rug and carpet stain removal services though our home cleaning and upholstery cleaning Auckland experts.
Why you should call in the professionals for carpet stain removal:
At Apex-Clean we have the best track record of treating and removing the hardest stains successfully
We have access to the most effective and specialized stain removal products and tools
We have rigorously trained and highly experienced technicians in our arsenal.
Our stain treatment include Carpet Stain Removal; Couch, Sofa, Lounge Suite & Upholstery Stain Removal & Mattress Stain Removal etc.
The benefits we provide:
Our Cleaning Technicians come fully prepared to deal with all common house spills, stains and more!
We commonly treat the following stains: Coffee, Tea, Soft-drinks, Beer, Urine, Dirt, Tar, Wine, Nail Polish, Lipstick, Paint, Crayon, Ink, Juice, Wax, and Chewing Gum
Treatment of minor household stains and spots is included in our standard service for all carpet and upholstery cleaning
Stain treatment & removal action plan
Some stains, you may be able to deal with yourself, but most of the stains you may need to get a professional to treat.
The steps that we follow is illustrated below in our "quick stain removal steps".   If safe, you may be able to do few of the flollwing steps as an aid, starting from step 1, 4, 5 & 6.  Follwing these steps may help to prevent from some stains become permanant stains.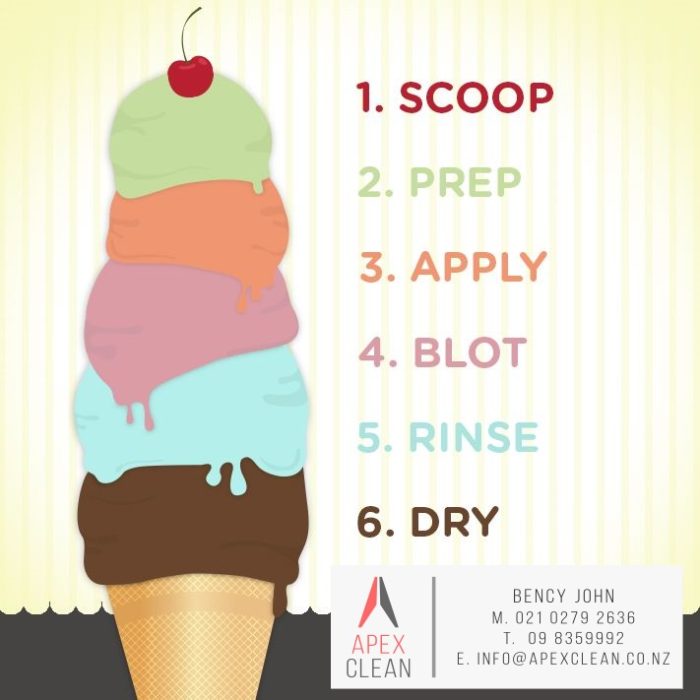 What you can expect from our trained technicians:
No one can ethically guarantee 100% stain removal, because no carpet or upholstery is absolutely stain-proof. But we CAN guarantee that our Technicians are well-trained and experienced to treat any stains and will try to do anything humanly possible to eliminate the stain.
Keep clear from those untrained people and cut-rate service providers:
Attempts to treat a stain the wrong way could result in it becoming permanent
Companies offering cut-rate services may end up charging you more with hidden extras
Don't risk damage to your furniture by hiring a company that doesn't have experience or qualifications to do the job right
Spots and stains all around you? Give Carpet Cleaning Auckland & Carpet Stain Removal Specialist ApexClean a call for a free quote!