Affordable, Professional & Eco-friendly Rug Cleaning by Apex-Clean
Why you should clean your rugs professionally?
See the Difference!You love those rugs of yours, right?  So do we, and this is the reason why we are offering you the best rug cleaning Auckland service through our team of highly professional residential and commercial cleaners in Auckland. Be it commercial or residential rug cleaning in Auckland, we are here with our experts and professional cleaning solutions that produces the best results without causing any damage to the surrounding environment. We remove all spots and amaze you with excellent results and our eco-friendly cleaning solutions are safe for all, as we use non-toxic chemicals in our carpet cleaning Auckland process, that is safe for both humans as well as pets.
ApexClean offers the best rug steam cleaning and stain removal services in Auckland for both domestic as well as commercial customers. Yes, you can obviously hire other companies / cleaning agencies but we firmly believe that we are the best in the industry with our professional cleaning experts who specialise in carpet and rug cleaning in Auckland apart from stain removal services in Auckland.
Why you should have your rugs professionally cleaned:
Vacuuming is not enough, neither is steam cleaning your rugs yourself
Almost all carpet companies require you to professionally steam clean your carpet every 12 to 24 months to keep your warranty valid
Professional steaming is legally the only way to protect your rugs, and it's also a way to protect your health.
The benefits we provide:
We are the experts in cleaning area rugs and Oriental rugs
We provide organic care for rugs with safe, eco-friendly treatments
Spots and stains are treated for no extra charge using the most advanced spotting techniques
Fast drying time
Free estimates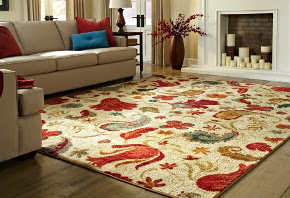 What you can expect:
We use steam cleaning / hot water extraction in order to guarantee the best results
We inject hot water as well as our primary cleaning solution to your rugs. This works to loosen and lift the soil and dirt from your carpets, without the need to do abrasive brushing or other methods of cleaning
Drying time is fast since 95% of moisture has been suctioned out. This also means that there will be no leftover soap residue.
You say goodbye to allergens, dust mites, dirt, and other pollutants!
Risks to consider:
When it comes to rug cleaning, the company with the lowest price may not be the best choice.
Beware of companies offering a low price simply to get a foot in the door. Once they're in your home, they'll identify many other issues to upsell and get you to buy more expensive services
Some companies still use powerful cleaning chemicals that can be harmful to your health
Call us now to book. We'll give you honest, reliable service for a more than reasonable price!